Self-Service for

DIY Customers
Let customers resolve queries themselves by using our three docs options: Help-Center, Documentation, and Blog.
Create awesome docs today
Multiple styles

For Every Case

Work with different Docs themes to cater to every user's needs.
"

...the idea of having different themes for the Docs feature is brilliant.

"
Gaurabh M. on Capterra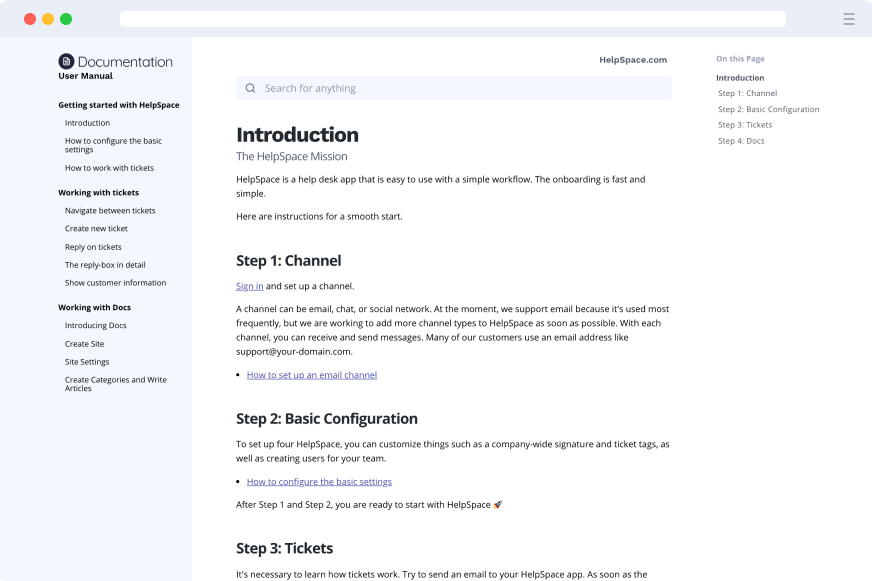 Fully
Customizable
Want to appear unique and impressionable? Match the Docs colors to your brand theme or spice things up with advanced CSS customizations.
---
"I can create knowledge base using my own domain and choose from 3 styles (blog, documentation or Help-Center) - it is fast loading too!"
Seth G. on Capterra
No-Nonsense
Editor
Our Docs editor has all you need to curate a helpful text -nothing less, nothing more. Use your desired options to create a matter-of-fact post for your customers.
---
"I love the product's simplicity and at the same time doing everything for us. They have a great team, they're really helpful and fast. The product is beautiful. There is a combination here, it has the functionality you need."
Volkan O. on Capterra
Custom Domains
Fancy a personalized experience? Use your own, unique domain.
Categories
Divide your articles into categories, making them accessible and easy to find.
Tags
Create tags and classify related articles to make them easily discoverable by your team and customers.
Embed Stuff
Embed HTML, iFrames, and videos to make your articles media-rich and informative.
Responsive
All Docs styles are fully responsive on mobile phones and tablets.
Searchable
Let your customers search for relevant topics with the quick and accurate search bar.
Internal Docs
Create member-only Docs for your team to make collaborative tasks a success.
Article Rating
Monitor the usefulness of an article by checking its rating.
Interconnected
Reply to a ticket by sending the relevant self-service article directly to your customers for detailed information.
Organize
Your Knowledge

Base
Reduce your tickets and enhance customer satisfaction by offering ready-made solutions.
Sign up for a free trial today.
Get Started