Unlock Your Team's
Productivity

Potential

Unleash the power of productivity with HelpSpace's Task feature - stay organized, meet deadlines, and collaborate with your team like never before.

Start Managing Tasks Efficiently
Tasks

and Tickets

Our Task feature allows you to connect tasks to tickets, creating a seamless workflow for your team. It provides a wide range of tools to help you manage and organize your tasks, making it easy to stay on top of your work.
Kanban
Boards
Organize your tasks with multiple Kanban boards, visualizing the progress of your tasks in real-time. Break them down into subtasks for easy tracking, and see what tasks are being worked on, completed and pending.
Team
Collaboration
Collaborate with your team by writing comments on tasks and keep everyone informed by assigning watchers. This feature allows you to easily communicate and work together on tasks, ensuring that everyone is on the same page.
Due Dates and
Prioritization
Never miss a deadline again with our due date feature, you can set a specific date and time for when a task should be completed. Prioritize tasks with our priority feature, making sure that the most important tasks are completed first.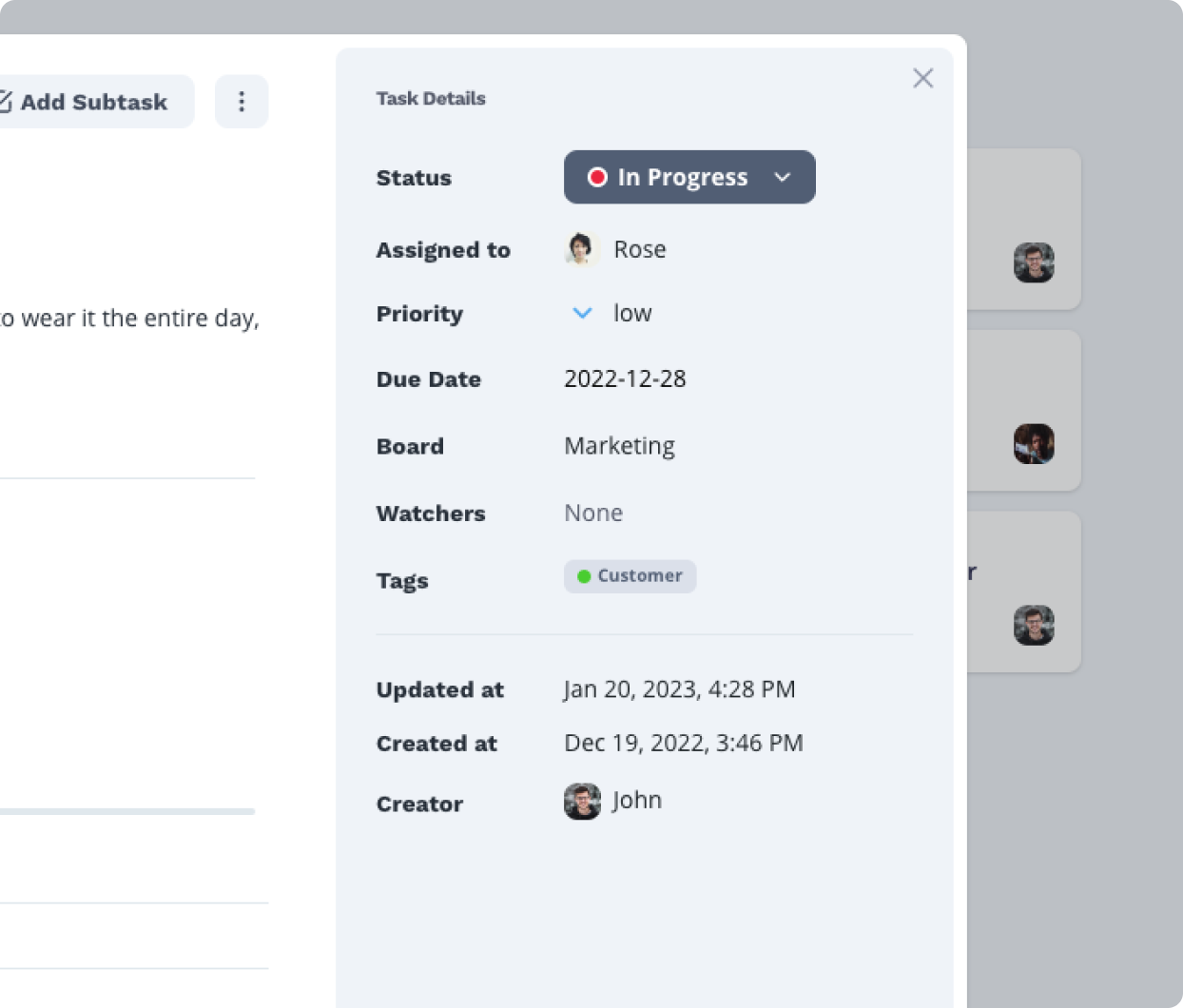 Track
Subtasks
Our task feature allows you to break down a task into smaller subtasks for easy tracking and organization. This feature gives you the ability to see the progress of a tasks calculated by open and done subtasks.
File and Media
Attachments
Easily attach and share files, images and documents related to your tasks. You can also preview the attachments without leaving the task page. This feature makes it easy to keep all the important information for a task in one place, and accessible to everyone on the team.
Boost Your Team's
Productivity

with Tasks
Maximize your productivity with Tasks. Easily manage your own work and that of your team, streamlining your workload and increasing efficiency. HelpSpace makes it simple to keep your workday running smoothly.
Get started for free